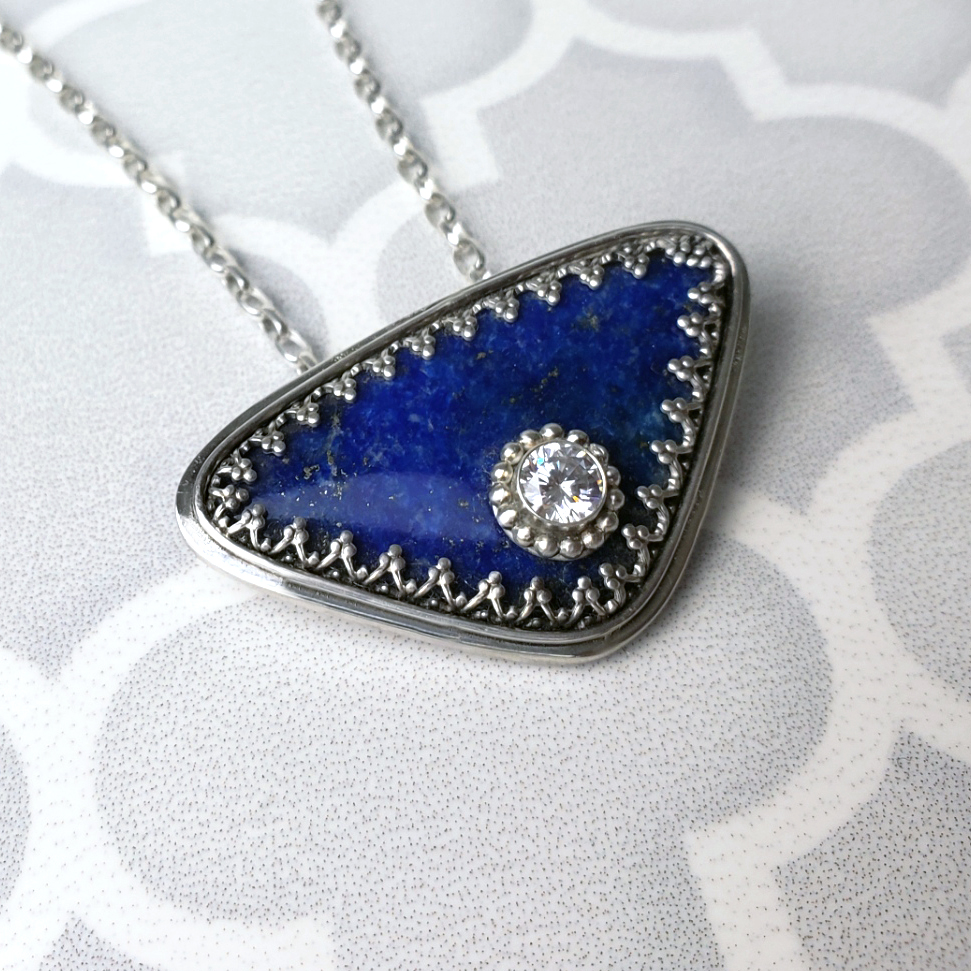 Sparkle In Stone
Level

Intermediate

Session

3 hours

Description

This is a comprehensive class that will teach you how to drill stones and how to make multiple stone settings to create a stone in stone pendant. Students will have the opportunity to choose their own cabochon and add a little creativity of their own.
Tools
Some tools will be provided by the instructor. Please refer to your registration.
Bench Block

Steel or Anodized aluminum - Used as a hammering surface for metal stamping or working with metal.

Center punch

Used to create a dimple in metal to start a hole for drilling. Also used for riveting. Provided by instructor for all classes

Dust Mask

A MUST if you want to drill shells and pearls. However, this is optional for classes with fumes such as etching and patinating. Classes that have a lot of dust do not require a mask, but it up to you if are you sensitive. (ie enameling.) Dust masks may be purchased at any hardware store.

Hand Tools

Basic hand tools – Any quality is appropriate for my classes. These do not need to be high end or expense.

Round nose

 - Typically it is preferred that the round nose be a fine tip. Especially for classes with detailed wire work.


Chain/needle nose

 – Tapered jaws for general metal and wire work. Non-serrated are requested for all of my classes. Typically requested for classes to be used for opening and closing jump rings; in which case, 2 pairs are requested or a combination of chain nose and flat nose is suitable.


Flat nose

 – Similar to chain nose but the jaws are not tapered. Non-serrated are requested for all of my classes.
 

Jeweler's Saw

Used for cutting sheet metal and metal tubes. Instructor will provide for every class needed.

Magnifier or Optivisor

– For almost all classes this is listed as an "As Needed" tool. If you have sight challenges it is recommended that you are properly prepared. For advance stone setting classes this is required! If you decide to use reading glasses consider better than 2.5x.




Ott Light or Task Lamp

This is optional item that is listed for every class. It is up to you to determine whether or not you will need to have one depending on your vision.

Riveting Hammer

(aka Swiss Hammer) – Best hammer for riveting due to its small size. Instructor will provide for every class needed.

Safety Glasses

Protective Eye wear – All drilling classes require that you wear some sort of safety glasses. Will your eyeglasses be enough? This is a personal decision. Some students prefer to wear only their prescription glasses while others wear goggles over their glasses. These may be found in any hardware store.

Super Grip Gloves

Optional for all classes, but most have found these very helpful for drilling class and classes that require a lot filing sanding. Not only will they protect your hands, but the grip will allow you to hold onto the stones you are working with.