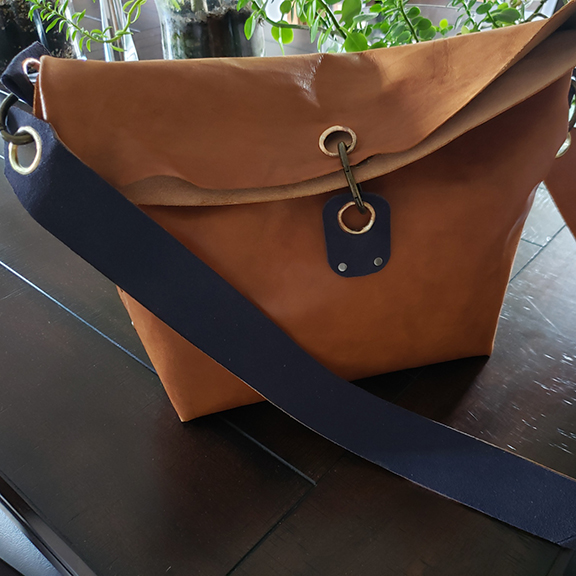 Just Bag It
Level

Intermediate, must have ring making experience

Sessions

6 hours, 1 day

Descrption

Lets make something different but use our jewelry making skills to finish the job. To complete the project, this class will utilize many aspects of your crafting skills. Starting from rawhide, you learn how to cut, trim, dye and finish leather to create a purse. Students will have the opportunity to pick from several brown tones for dying and either blue or brown suede for contrast.
Tools
Some tools will be provided by the instructor. Please refer to your registration.
Bench Block

Steel or Anodized aluminum - Used as a hammering surface for metal stamping or working with metal.

Bezel Shears

Used to cut metal sheet. There are many available on the market, any of which will work, however they should NOT be serrated. (Tin snips or airplane shears will also work, however, they may be large and cumbersome.) If the project has curves in the design and you own a pair, bring curved bezel shears. This is an optional item for most classes. Shears will be provided for use during classes.

Chasing Hammer

Used for chasing/moving metal. In my classes chasing hammers are used to create hammer marks on metal and riveting. Instructor will provide for every class needed.

Hand Tools

Basic hand tools – Any quality is appropriate for my classes. These do not need to be high end or expense.

Round nose

 - Typically it is preferred that the round nose be a fine tip. Especially for classes with detailed wire work.


Chain/needle nose

 – Tapered jaws for general metal and wire work. Non-serrated are requested for all of my classes. Typically requested for classes to be used for opening and closing jump rings; in which case, 2 pairs are requested or a combination of chain nose and flat nose is suitable.


Flat nose

 – Similar to chain nose but the jaws are not tapered. Non-serrated are requested for all of my classes.
 

Leather working tools

Leather working tools will be provided in class. However, you will need the following to be able to repeat this process in your own studio. Leather hole punch, edger, slicker with grove, dye, daubers, rotary cutter, cutting surface and clean sponges.

Magnifier or Optivisor

– For almost all classes this is listed as an "As Needed" tool. If you have sight challenges it is recommended that you are properly prepared. For advance stone setting classes this is required! If you decide to use reading glasses consider better than 2.5x.




Metal Dap Set

Used to dap metal to create a cup shape. 3 sets will be provided during classes to share. If you are bringing a set, please check with the instructor for needed sizes. Usually an entire set is needed for a class, only parts. This will lessen the weight you need to carry.

Rawhide/Leather Mallet

Shape and flatten metal without marring it. #2 mallet is a standard size. Instructor will provide for every class needed. A yellow nylon mallet may be used in its place, however a rubber one may not.

Ring Mandrel, Steel

Used for shaping and forming metal into rings. A plastic one will not work in its place. Instructor will provide to share (1 for every 2 people) for every class needed.

Metal Ruler

6" metal ruler is preferred unless otherwise noted. A larger one will also work, however, it may be a little cumbersome.

Scissors

Usually on the list for use of cutting paper patterns or the like.

Student Files

Standard size is 2/o. For filing metal. . Instructor will provide to share for every class needed.

Two-hole draw down punch

This is different from a hand punch as it has 2 sizes in one tool. Instructor will provide to share (1 for every 2 people) for every class needed.