Boondocking, Part 2 - the return
May 2018

Roadtrip Part 2
I returned to Denver via airplane two weeks later to make my return trip. Five days in Denver, 1 show and 5 classes later, I was off to my next destination. Our original plans no longer in place, I took a break between teaching to spend some much needed days off with friends. How was I so lucky to have friends who were happy to indulge my hiking obsession?
Two and a half days in the middle of the week between classes would be my weekend. I hung out while other people cooked for me, included me in their family celebration, showed their town to me and the beauty which is Montana. I got to see what it was like to live in a town of 7k people and started reconsidering where my next homestead would be.
My journey would take me to northern Montana, Kalispell. What a surprise that would be. Having never heard of it, I just assumed it was another small town. How wrong was I? So much bigger than I anticipated. I spent 3 days teaching at Powderhorn Trading which would present another first in my career. Never did I think I would teach at a facility that sold guns and mounted deer heads! Ha. I guess I can now check that off my list. I'm just sorry I didn't snap any pictures. You will just have to trust me on that fact.
In a hurry to get home I packed it up and high tailed it out of Kalispell Sunday night after class. I had calculated that if I put in a few hours of driving in that night I would be able to make it home by Wednesday instead of Thursday. With that much time away from home I just wanted to get home. I spent the night at a rest stop, again in my car. By morning I had discovered my beloved backseat mattress had failed overnight. It was no longer staying inflated, argh.
I took the southern route through Montana for my return to Ohio because of a critical mistake in my planning had a package going to Livingston (my first stop in MT) rather than Kalispell. The goal for the day was to make it past the boarder of Montana and North Dakota and of course with a stop for a hike. Seeing signs regularly for Glendive, MT I was compelled to stop for a little looksy. What a nice surprise.
Makoshiko State Park in Glendive, MT was much like the nearby Theodore Roosevelt National Park, another hidden gem. This being a last minute stop meant that I would just make an educated guess on the hike. As luck would have it, I picked the most popular hike at the park and got to see the one thing I wanted to see, cap rocks. Which were on the bill boards along the road. Yeah me. AND I chose a day when there were very little visitors. I love having a trail to myself. No one smoking cigarettes, no one being unruly, and definitely no one to get in my way. The lesson from this hike? NEVER start a hike at the top of a hill. Because ending a hike with a climb up really sucks! I do enjoy the reward of a decline after a climb.
With 17hours left to drive, my next plan was to put in about 10hours so that I could make it home by Wednesday afternoon. Well, you know what they say about best laid plans. Two hours into my drive Tuesday morning I was exhausted and already falling asleep. Up until then I had never had to fight off sleep, not even during part 1. This time I was completely struggling. So I made another unplanned stop in Minneapolis to have lunch with my aunt. Who of course insisted that I stayed the night. This turned out to be the right decision as I completely passed out that night for 9.5hours.
26 days out of 42 on the road I discovered a few things about myself. I really can spend time alone and like it. As much as I like being with people I am perfectly happy to be by myself. I prefer waking up cold than waking up warm, but I like going to bed warm. I like sleeping in my car and actually missed it the last night on the road when I actually had a bed. It is all about the space that you create for yourself. It has been since my twenties that I have traveled alone, I never realized that I missed it. I am truly excited for the next opportunity to drive across the country alone.
The stats:
5,672 miles driven
18 classes taught
16 states
9 Costco's (it became a thing)
3 shows
3 roadside rest stops
2 National Forest parking lots
1 Walmart parking lot
1 casino parking lot
Weapon of mass destruction.

The things you see on the road. I got nothing for this one.

Over looking Paradise Valley in Livingston, MT

What can I say? I like taking pictures of dead trees.

My hosts in Livingston, MT.

Pine Creek Trail
Livingston, MT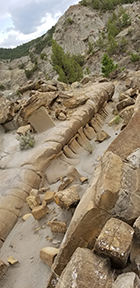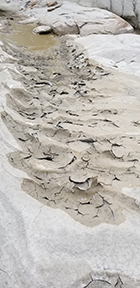 Makoshika State Park, Glendive, MT
Kinney Coulee Trail
Always fun trying to take a selfie alone on a trail.




Cap stones, created by hundreds/thousands of years of erosion.

Makoshika State Park, Glendive, MT

Kinney Coulee Trail