Boondocking to Vegas 2018
March 2018
Road Trip 2018
I would say that I have no idea how this road trip came together but that would be a lie. Despite the randomness of the events, there was some planning. Actually there was a lot of planning, but about 90% of went out the door the night before I was to leave. So here is how it all came together.
The original plan, drive to Las Vegas via Kansas through Denver. Arrive in time for the Glass Craft & Bead Expo. After the show drive back to Denver, leave car at MIL's house, fly back to CLE for 2.5weeks. Fly back to DEN for the Rocky Mountain Bead Bazaar, then drive to Kalispell, MT to teach, then finally drive home.
When it became clear that no one could join me on this drive, I had to turn this into an adventure. Never before have I driven across the country on my own. The furthest solo drive has been a 10 hour drive to Appleton, WI. This started to seem a little daunting. But the more I thought about the freedom of being alone the more it became a challenge.
Being alone and driving a Toyota Sequoia I potentially had enough space to do a little "car camping". This way I could idealistically wake up every morning at a trailhead for a hike. The prospects were starting to get me excited. Some time ago I had seen an advertisement for a backseat mattress, I thought it was so cool but had not purpose for it. Now that I had the perfect reason to buy one, I just needed to do the research to make sure it would work. I put Amazon to work. Along with the mattress, I ordered a Sheewee and hot water heating coil that I could plug into the cigarette lighter in the car, neither of which worked and have since been returned.
When traveling, it is all about the creature comforts, things that make you feel whole and a routine. All of that in mind, I packed my car with a down comforter, sleeping bag, body pillow, an iceless cooler (stocked with proats for breakfast, salads, veggies and egg salad for lunch), bag of snacks to help keep me awake, and a my phone loaded with the complete collection of "How to Speak Mandarin" to occupy my time. The plan was to eat breakfast and lunch on the road and stop for dinners allowing me to optimize my drive time leaving more time for hikes.
Two days before departure, the car was packed for the show leaving enough room for the backseat mattress and the front seat for the cooler. This gave me a lot of time to think of the little things I did not pack, like toilet paper for the campsites and a jug of water just in case I needed it after a hike. For the most part I had thought of everything.
After weeks of looking at maps and querying my friends on FB the decision would be to drive through Kansas to Vegas as it was the shortest route. The night before departure we made a last minute decision to go South through Oklahoma which proved to the best decision we could have made because 2 days later there was a snow storm through Kansas. Phew. Additionally, it would turn out that most of the campgrounds in the north would not open until after I reached Vegas.
Andy and I had found 2 campsites in MO for the first stop. The campsite I would choose would be dependent on how far I could drive on that first day. That was until I started talking to a friend who planted this little seed about spending the night at a Walmart. Apparently this was something her boyfriend had always wanted to do just once in his life, just for fun. And somehow it became a thing in my head. By the end of the conversation I was determined to stay at a Walmart before the end of my trip.
Though there was an opportunity to be at Walmart that first night I was not compelled to stay after one of their employees confirmed that "only weirdos parked their cars in our lot at night". Hell to the no. I used the bathroom, brushed my teeth and took off to the campgrounds.
There is nothing like having other people in my head as I pulled into a pitch dark parking lot at the Mark Twain National Forest. What was I thinking? Am I really doing this? Hey Andy, are you really, really sure I can do this and not get booted? It took about 15 minutes to calm my nerves as I locked the doors, turned off my car and settled in the for the night. Surprisingly I slept well. The thing that had me most worried that night was Andy. I was able to talk to him when I arrived but was never able to regain cellular service to say goodnight. I worried so much that he would be worried about my safety I drove away first thing the next morning to find cell service. I skipped the hike. I would make a better plan for the next night should that be the case again.
The next stop would be Oklahoma via the Ozarks, what adventures was before me that day I could have never guessed. Stopped at a gas station to brush my teeth, use the facilities, get a cup of hot water for tea and fill up the gas tank. Another stop at Walmart to look for a new hot water coil, another fail. Then there was the quick turn around on the highway somewhere around Branson when I saw a big sign for the "Creation Experience Museum". Yup, I just had to do it. Morbid curiosity had gotten the best of me. After all, there were replicas of dinosaurs outside of the building!
I was greeted immediately upon entry, they were very welcoming. The tour being free, there was no turning back. I was able to talk them into giving me the "condensed version" of the guided tour due to the impending storm outside. I told them that I did not want to get back in my car for a four hour drive wet. They agreed that it was a really bad idea; condensed tour it is. Let me just say, "WOW". To think only 6 years before I thought a friend was pulling my leg when he told me about this group of people. They really do exist. Walking away from this experience I will say this, at least these people seemed respectful and were not judging (at least not openly). They believed in their convictions and were just there to share it. I can respect that, don't know about the rest of it though.
| | |
| --- | --- |
| It was sort of a dare (mostly to myself) but I couldn't help myself. | My fearless leader complete with replicas of dinosaurs. |
It had become late in the day by the time I reached the Ozarks for my lunch stop. The hike would not happen. I felt it pertinent to reach the next campground area before dark. It was a little challenging not understanding my surroundings the night before.
Now that I have had a taste for free overnight parking, it became a challenge. 18 hours in a car will do that to you. Lots and lots of ways to change your current reality. Though I had a campground planned ($25) I thought it would be more fun if I could get away with either a Walmart or perhaps at a casino. I drove to the Walmart for what has become my evening ritual, use the facilities and brush my teeth. Ascertained that the parking lot was way too busy and way too bright for any kind of sleep and left for the casino. At the casino I found where the semi's and RV's were parked, consulted with the security guard and joined them for the evening.
| | |
| --- | --- |
| Parking at the Casino | Getting comfy in my comforter. |
| | |
| --- | --- |
| | The one thing I noticed driving through Amarillo, TX were the numerous donut shops. What was up with the donuts shops along the highway. This would be my opportunity to stop. I was greeted by the Chinese proprietor who seemed quite pleased to see me that he started to speak to me in Chinese. (I might have answered him, but I had only been through 2 discs!) I ordered my favorite, bavarian cream filled. He threw in a couple of donut holes, one tasted like Koolaid, the other strawberry. I did not finish any of them. (Remember the cheap thrill part?) |
| | |
| --- | --- |
| Texacola, OK (OK/TX boarder) | I felt like I had arrived on the set of Deliverance. |
Arriving in Albuquerque early I found my way to the nearest National Forest, Cibola, where I hoped to hike. On my way to the top of the mountain, I drove by the next intended campground and never turned back. With no signs stating I couldn't park overnight, I chose a quiet spot in the corner of the lot at the top of Sandia Crest. There I found my first hike, a sunset and an outhouse. What more could a girl want? Actually, running water would have been nice. I opted out of brushing my teeth on this night.My fourth drive across OK, TX and NM to Albuquerque was like the previous three, terribly boring. But this time productive. I was able to finish 2 discs on "How to Speak Mandarin" and discovered that I could only absorb about 45minutes at time before switching to some other form of entertainment.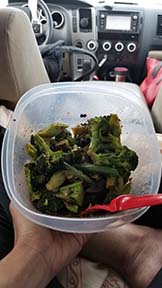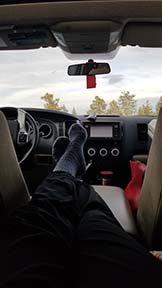 Brocolli and greens beans sauteed in garlic with a bite of BBQ made for a great dinner, cold, but good.
Lounging in my new "recliner". One more reason why I love the extra large center console.
A sugar treat for the drive, but I feel like I got jipped with the prize.
| | | |
| --- | --- | --- |
| At the top of Sandia Crest, NM | Sunset over Albuquerque, NM | Yet I couldn't get a good signal. huh. |
Onward to Prescott, AZ to find a dormant volcano, a National Park and another hike on a lava field. Interesting that this would be my third lava field hike in the US, none of which were in Hawaii; who knew?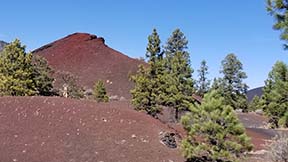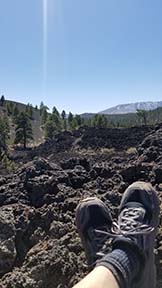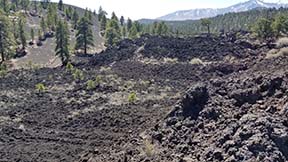 Sunset Volcano National Park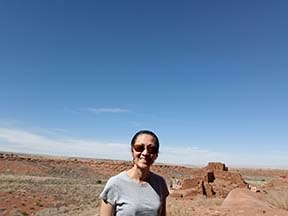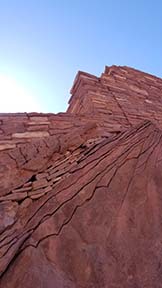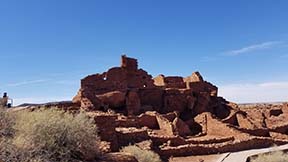 Wupkati National Monument
Only four hours left to Vegas, I opted to stop in Prescott for the night to stay with my son (free) allowing me to have an easy day heading into the show without the pressure of a schedule. Again, best intentions. What I thought would be a nice night in a real bed turned into a very early morning wake up call by a barking dog in the upstairs apartment. Ugh.
The best was saved for last, I stopped for a final hike before reaching Vegas. Last minute planning was not helpful at all. What I thought would be a moderate, 4.4mile hike turned into a challenging, 6.5mile hike. The Gold Strike Trail was almost my undoing with a near mishap scaling down a boulder, yipes. But I was rewarded for all my efforts with an oasis at the end of the trail. It was simply beautiful and somehow I was blessed enough to arrive during a lull and had the entire space to myself for about 10 minutes. It was short but you gotta take what you can get during a holiday week. My body would pay for this excursion for the next 2 days.
Colorado River

My reward at the end of the hike.

Yes, this was part of the trail

There was an electrolyte station provided by a
private citizen.
Overall, it was pretty much a cheap thrill both figuratively and literally. With exception of gas, I only spent $37 for the entire trip. $15 went to a truck stop for some of the best St. Louis BBQ I have ever had. (Half a chicken and a rack of ribs would feed me for lunch and dinner until I reached AZ.) $20 begrudgingly went to a National Park. I visited more Walmarts than I care to admit, but they did serve their purpose on more than several occasions. And for some odd reason I felt like I was getting away with something because I never made a purchase.
| | |
| --- | --- |
| Best BBQ in St. Louis. Dinner that became lunch, dinner, lunch, lunch. | Ribs, yum |
Walmart would not happen until the turnaround from Vegas. Headed to Denver I chose to get a head start on this very long 11 hour leg of the trip by leaving directly after the show. But knowing that it would be dark by the time I arrive at any destination I chose to stop at the most convenient, Cedar City, UT Walmart. My routine would begin again. Use the facilities, brush my teeth, find where all the other RV's are parked and settle in for the night. Walmart was officially checked off my list, of things I have done for no real good reason except to be able to say I did it.Surprisingly, I only used the bushes twice and two outhouses. There were no showers for 3 days, but I was sure to shower the night before I left and changed my clothes, underwear and socks daily. As hard as I tried I was only about 75% successful at keeping a daily routine. Most importantly I never felt the urge to go to a hotel or veer off course.
Officially halfway through the trip, I caught a flight home from Denver for a two week break. I will return to Denver armed with experience and an extra pillow for the turn around.
| | |
| --- | --- |
| Look closely, that glowing past the RV is indeed Walmart! | Morning hike in Utah. No clue where I was, but there was a marked trail. |
| | |
| --- | --- |
| I love driving through Utah. | Salt Wash View Area, Utah |
| | |