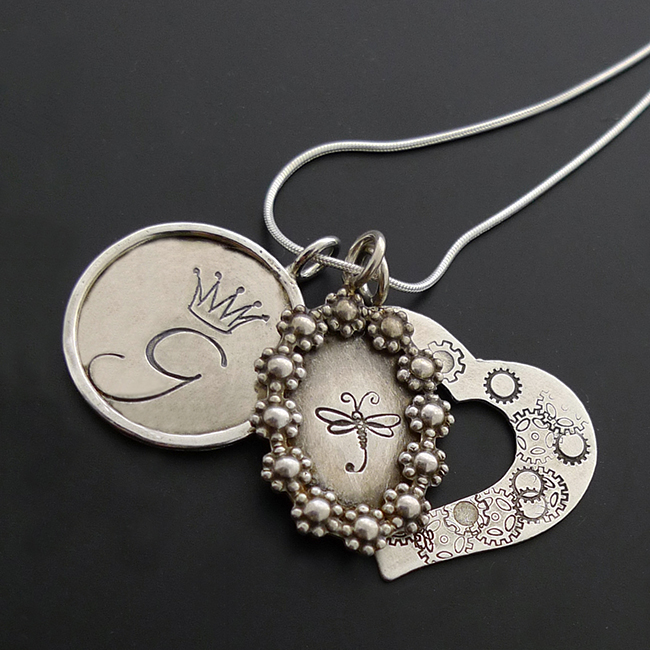 So Charming
Level

Beginner

Session

3 hours

Description

Hand stamped charms are all the rage, why not take a little bit further with a little solder? Learn proper techniques to hand stamping metal and soldering sterling silver. Students who work quickly will finish multiple projects. Additional materials and tools maybe purchased from instructor.
Tools
Some tools will be provided by the instructor. Please refer to your registration.
Bench Block

Steel or Anodized aluminum - Used as a hammering surface for metal stamping or working with metal.

Helping Hand/Third Hand

Used to hold small parts in place while soldering. Instructor will provide to share for every class needed.

Magnifier or Optivisor

– For almost all classes this is listed as an "As Needed" tool. If you have sight challenges it is recommended that you are properly prepared. For advance stone setting classes this is required! If you decide to use reading glasses consider better than 2.5x.




Ott Light or Task Lamp

This is optional item that is listed for every class. It is up to you to determine whether or not you will need to have one depending on your vision.

Rawhide/Leather Mallet

Shape and flatten metal without marring it. #2 mallet is a standard size. Instructor will provide for every class needed. A yellow nylon mallet may be used in its place, however a rubber one may not.

Ring Clamp

Used to hold rings, but some like to use a ring clamp for holding metal when filing to save their hands. Required mostly for stone setting classes to hold the ring shank.

Ring Mandrel, Steel

Used for shaping and forming metal into rings. A plastic one will not work in its place. Instructor will provide to share (1 for every 2 people) for every class needed.

Ring Sizer

Optional, used to measure your ring size. Several sets will be provided to share in class.

Side Cutters

Also known as wire cutters or snippers. For many of my classes I prefer Ultra Flush side cutters because it eases the workload. Ultra flush is the most flush you can buy as opposed to just flush cutters. If you don't own a pair of Ultra Flush cutters, you may want to invest in a good pair either Lindstrom or Swanstrom. There is usually not a different in price between ultra and just flush cutters so why not just buy the best? The image shows just a side cutter (top) and ultra flush (bottom).

Soldering Kit

(Optional) 
Items in this Soldering Kit will be provided for use during the class. If you are interested in ordering a kit please click on the image. Kit includes: Butane torch, butane, 1 tube solder paste, fire tweezers, copper tweezers, Sparex, tripod with mesh, flux, soldering board. (Note: kit will be delivered at class. If you require the kit prior to class please contact us to make arrangements.