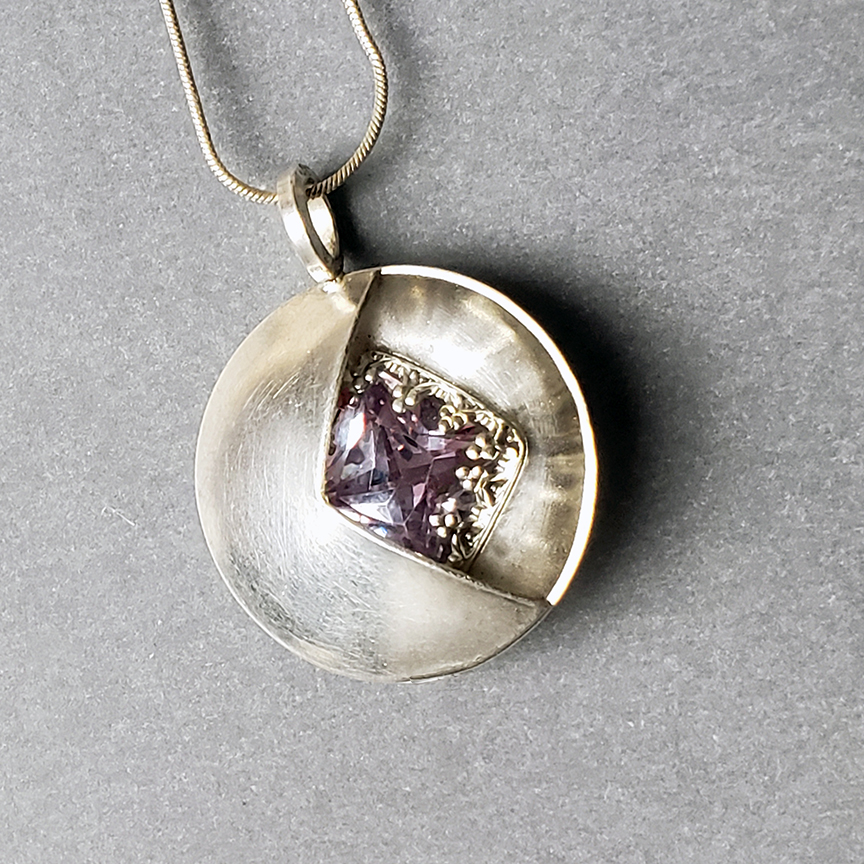 Peek-a-Boo Pendant
Level

Beginner

Session

1, 3 hour sessions, on-line

Description

Setting gem cut stones may be tricky, but by using a creative approach we will make it easy. This design will also make this a double sided pendant that can be worn both ways.
Tools
Tools required to complete project.
Center punch

Used to create a dimple in metal to start a hole for drilling. Also used for riveting. Provided by instructor for all classes

Curved Burnisher

Used to burnish or smooth the surface of metal. For most projects using this tool you will want at least a 3mm ball. This tool may also be found at your local craft store for use with clay or nail art.

Flex shaft

Rotary tool used for polishing, drilling, finishing, etc. Flex shafts are available for purchase new and gently used at the class. Pleased contact the instructor if are interested in purchasing one at the class as quantities are limited. 

Helping Hand/Third Hand

Used to hold small parts in place while soldering. Instructor will provide to share for every class needed.

Jeweler's Saw

Used for cutting sheet metal and metal tubes. Instructor will provide for every class needed.

Needle File Set

Used for filing smaller pieces of metal and tight places. When required, either diamond coated or fine tooth is preferred. Some students may prefer to use smaller files as opposed to the student files for their projects.

Self Tapping Center punch

This center punch has a spring action which propels the punch to create a dimple. Classes requiring this tool is specific. The reason for this tool vs. a manual punch is that it does not require the use of a hammer to create the dimple.

Soldering Kit

(Optional) 
Items in this Soldering Kit will be provided for use during the class. If you are interested in ordering a kit please click on the image. Kit includes: Butane torch, butane, 1 tube solder paste, fire tweezers, copper tweezers, Sparex, tripod with mesh, flux, soldering board. (Note: kit will be delivered at class. If you require the kit prior to class please contact us to make arrangements.