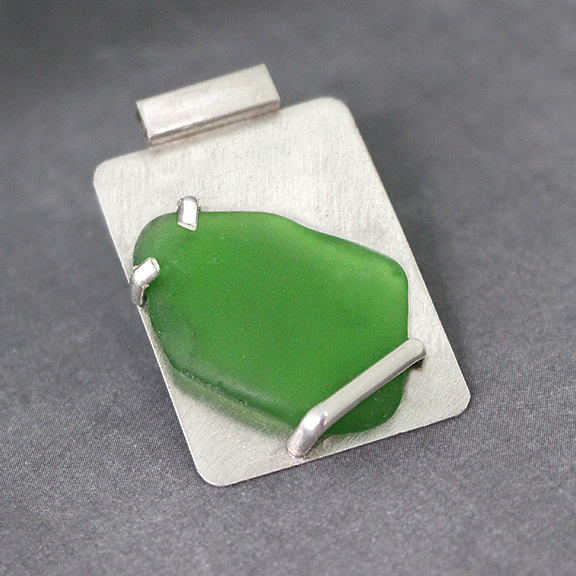 Verano Pendant
Level

Intermediate

Session

3 hour session, on-line

Description

Capture summer in a pendant. In this project you will learn to set sea glass or river stone with prongs and "hook" of sorts. Register at The Urban Beader.
Tools
Tools required to complete project.
Bench Block

Steel or Anodized aluminum - Used as a hammering surface for metal stamping or working with metal.

Bezel Pusher

Not a tool I usually use, but from time to time they are helpful. Before using, consider sanding the edges of the tool to create a bevelled edge to reduce marring and scratches.

Bezel Shears

Used to cut metal sheet. There are many available on the market, any of which will work, however they should NOT be serrated. (Tin snips or airplane shears will also work, however, they may be large and cumbersome.) If the project has curves in the design and you own a pair, bring curved bezel shears. This is an optional item for most classes. Shears will be provided for use during classes.

C-clamp

To be used with bench pins to clamp to tables. May be found at any local hardware store. Must be at least 3 inches. 

Curved Burnisher

Used to burnish or smooth the surface of metal. For most projects using this tool you will want at least a 3mm ball. This tool may also be found at your local craft store for use with clay or nail art.

Heavy Duty Cutters

Although any heavy duty cutter will work, if they are flush, they will make your work a lot easier. Cutter should be able to cut through 10g wire. (Many cutters imprint their cutting capacity on the inside of the handle.) Keiba and Xuron are recommended.

Jeweler's Saw

Used for cutting sheet metal and metal tubes. Instructor will provide for every class needed.

Magnifier or Optivisor

– For almost all classes this is listed as an "As Needed" tool. If you have sight challenges it is recommended that you are properly prepared. For advance stone setting classes this is required! If you decide to use reading glasses consider better than 2.5x.




Ott Light or Task Lamp

This is optional item that is listed for every class. It is up to you to determine whether or not you will need to have one depending on your vision.

Rawhide/Leather Mallet

Shape and flatten metal without marring it. #2 mallet is a standard size. Instructor will provide for every class needed. A yellow nylon mallet may be used in its place, however a rubber one may not.

Soldering Kit

(Optional) 
Items in this Soldering Kit will be provided for use during the class. If you are interested in ordering a kit please click on the image. Kit includes: Butane torch, butane, 1 tube solder paste, fire tweezers, copper tweezers, Sparex, tripod with mesh, flux, soldering board. (Note: kit will be delivered at class. If you require the kit prior to class please contact us to make arrangements.