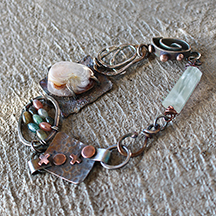 This and That Bracelet
Level

Intermediate

Session

2, 1.5 hours, on-line

Description

This class will cover a little bit of this and a little of that. Soldering, riveting, fusing, reticulating, wire wrapping and YES! even a little stone setting. Every link is a miniature project in itself and can be created to your style. Participants will receive a collection of different materials to make one of a kind bracelets. Even if we were all sitting together in a room, no two bracelets will look alike. Lets get back to making and show off your finished bracelets at the next event! Classses are conducted on-line. Written instructions and detailed materials list will be provided before the commencement of class.


Tools
Some tools will be provided by the instructor. Please refer to your registration.
Bench Block

Steel or Anodized aluminum - Used as a hammering surface for metal stamping or working with metal.

Bezel Mandrel

A small steel mandrel used to create round bezel settings, jump rings or other components.

Bezel Pusher

Not a tool I usually use, but from time to time they are helpful. Before using, consider sanding the edges of the tool to create a bevelled edge to reduce marring and scratches.

Bezel Shears

Used to cut metal sheet. There are many available on the market, any of which will work, however they should NOT be serrated. (Tin snips or airplane shears will also work, however, they may be large and cumbersome.) If the project has curves in the design and you own a pair, bring curved bezel shears. This is an optional item for most classes. Shears will be provided for use during classes.

Center punch

Used to create a dimple in metal to start a hole for drilling. Also used for riveting. Provided by instructor for all classes

Chasing Hammer

Used for chasing/moving metal. In my classes chasing hammers are used to create hammer marks on metal and riveting. Instructor will provide for every class needed.

Fine Tweezers

Used for moving small parts. Classes requiring fine tweezers will not work with fire tweezers. These are a cheap investment. Please be bring some. Optional for most classes.

Flex shaft

Rotary tool used for polishing, drilling, finishing, etc. Flex shafts are available for purchase new and gently used at the class. Pleased contact the instructor if are interested in purchasing one at the class as quantities are limited. 

Hand Tools

Basic hand tools – Any quality is appropriate for my classes. These do not need to be high end or expense.

Round nose

 - Typically it is preferred that the round nose be a fine tip. Especially for classes with detailed wire work.


Chain/needle nose

 – Tapered jaws for general metal and wire work. Non-serrated are requested for all of my classes. Typically requested for classes to be used for opening and closing jump rings; in which case, 2 pairs are requested or a combination of chain nose and flat nose is suitable.


Flat nose

 – Similar to chain nose but the jaws are not tapered. Non-serrated are requested for all of my classes.
 

Heavy Duty Cutters

Although any heavy duty cutter will work, if they are flush, they will make your work a lot easier. Cutter should be able to cut through 10g wire. (Many cutters imprint their cutting capacity on the inside of the handle.) Keiba and Xuron are recommended.

Magnifier or Optivisor

– For almost all classes this is listed as an "As Needed" tool. If you have sight challenges it is recommended that you are properly prepared. For advance stone setting classes this is required! If you decide to use reading glasses consider better than 2.5x.




Needle File Set

Used for filing smaller pieces of metal and tight places. When required, either diamond coated or fine tooth is preferred. Some students may prefer to use smaller files as opposed to the student files for their projects.

Ott Light or Task Lamp

This is optional item that is listed for every class. It is up to you to determine whether or not you will need to have one depending on your vision.

Rawhide/Leather Mallet

Shape and flatten metal without marring it. #2 mallet is a standard size. Instructor will provide for every class needed. A yellow nylon mallet may be used in its place, however a rubber one may not.

Ring Mandrel, Steel

Used for shaping and forming metal into rings. A plastic one will not work in its place. Instructor will provide to share (1 for every 2 people) for every class needed.

Ring Sizer

Optional, used to measure your ring size. Several sets will be provided to share in class.

Riveting Hammer

(aka Swiss Hammer) – Best hammer for riveting due to its small size. Instructor will provide for every class needed.

Side Cutters

Also known as wire cutters or snippers. For many of my classes I prefer Ultra Flush side cutters because it eases the workload. Ultra flush is the most flush you can buy as opposed to just flush cutters. If you don't own a pair of Ultra Flush cutters, you may want to invest in a good pair either Lindstrom or Swanstrom. There is usually not a different in price between ultra and just flush cutters so why not just buy the best? The image shows just a side cutter (top) and ultra flush (bottom).

Soldering Kit

(Optional) 
Items in this Soldering Kit will be provided for use during the class. If you are interested in ordering a kit please click on the image. Kit includes: Butane torch, butane, 1 tube solder paste, fire tweezers, copper tweezers, Sparex, tripod with mesh, flux, soldering board. (Note: kit will be delivered at class. If you require the kit prior to class please contact us to make arrangements.