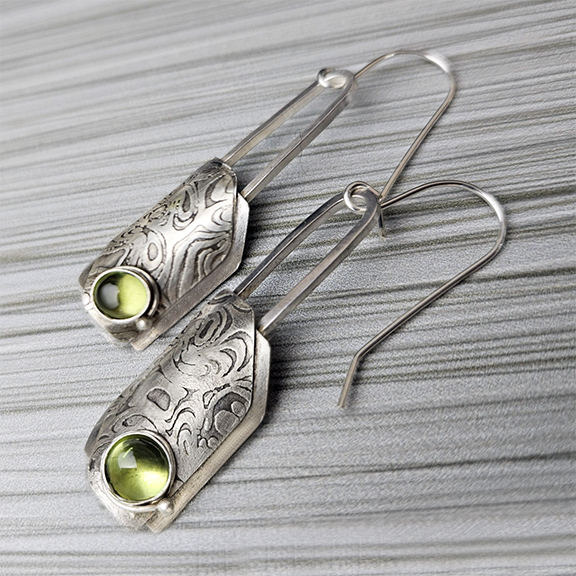 Arrondi Earrings
Level

Beginner

Session

3 hours

Description

This beginner project will have you impressing your friends. Learn soldering basics, how to set a bezel and create the perfect connections. Students will have the opportunity to choose their shape and stone.
Tools
Some tools will be provided by the instructor. Please refer to your registration.
Bench Block

Steel or Anodized aluminum - Used as a hammering surface for metal stamping or working with metal.

Bezel Rocker

There are 2 bezel rockers on the market, the one shown is preferred, but if you own the other one it will work also. I usually have 2 to share at the shows.

Bezel Shears

Used to cut metal sheet. There are many available on the market, any of which will work, however they should NOT be serrated. (Tin snips or airplane shears will also work, however, they may be large and cumbersome.) If the project has curves in the design and you own a pair, bring curved bezel shears. This is an optional item for most classes. Shears will be provided for use during classes.

Circle Template

Used to create a pattern for cutting. For most classes this template needs to include circles at least 1.25" in diameter or larger. 

Flex shaft

Rotary tool used for polishing, drilling, finishing, etc. Flex shafts are available for purchase new and gently used at the class. Pleased contact the instructor if are interested in purchasing one at the class as quantities are limited. 

Hand Tools

Basic hand tools – Any quality is appropriate for my classes. These do not need to be high end or expense.

Round nose

 - Typically it is preferred that the round nose be a fine tip. Especially for classes with detailed wire work.


Chain/needle nose

 – Tapered jaws for general metal and wire work. Non-serrated are requested for all of my classes. Typically requested for classes to be used for opening and closing jump rings; in which case, 2 pairs are requested or a combination of chain nose and flat nose is suitable.


Flat nose

 – Similar to chain nose but the jaws are not tapered. Non-serrated are requested for all of my classes.
 

Honeycomb Soldering Board

 – An optional item for all classes. A honeycomb soldering board with pins is great to help hold pieces in place. 

Magnifier or Optivisor

– For almost all classes this is listed as an "As Needed" tool. If you have sight challenges it is recommended that you are properly prepared. For advance stone setting classes this is required! If you decide to use reading glasses consider better than 2.5x.




Multi-looping Pliers

Optional unless stated, used in to create consist sized loops. Typically optional in my classes. Round nose may be use its place for most projects.

Needle File Set

Used for filing smaller pieces of metal and tight places. When required, either diamond coated or fine tooth is preferred. Some students may prefer to use smaller files as opposed to the student files for their projects.

Nylon nose pliers

Flat nose pliers with PVC grips o the heads. Mostly used for straightening wire. In my classes they are used to prevent marring when bending metal. Only required for some classes, but this is mostly an optional item.

Ott Light or Task Lamp

This is optional item that is listed for every class. It is up to you to determine whether or not you will need to have one depending on your vision.

Rawhide/Leather Mallet

Shape and flatten metal without marring it. #2 mallet is a standard size. Instructor will provide for every class needed. A yellow nylon mallet may be used in its place, however a rubber one may not.

Metal Ruler

6" metal ruler is preferred unless otherwise noted. A larger one will also work, however, it may be a little cumbersome.

Soldering Kit

(Optional) 
Items in this Soldering Kit will be provided for use during the class. If you are interested in ordering a kit please click on the image. Kit includes: Butane torch, butane, 1 tube solder paste, fire tweezers, copper tweezers, Sparex, tripod with mesh, flux, soldering board. (Note: kit will be delivered at class. If you require the kit prior to class please contact us to make arrangements.

Student Files

Standard size is 2/o. For filing metal. . Instructor will provide to share for every class needed.

Super Grip Gloves

Optional for all classes, but most have found these very helpful for drilling class and classes that require a lot filing sanding. Not only will they protect your hands, but the grip will allow you to hold onto the stones you are working with.