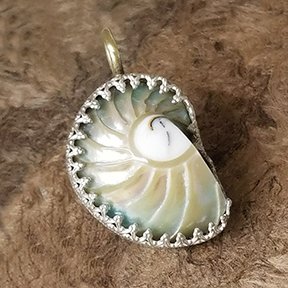 Simpy Bezeled
Level

Beginner

Session

3 hours

Description

Set all of your treasures in these attractive bezels. Using shells, beach glass or even marble as the center piece, you will fabricate a double-sided, sterling silver bezel. Students will have time to make at least one pendant, some will finish 2.
Tools
Some tools will be provided by the instructor. Please refer to your registration.
Curved Burnisher

Used to burnish or smooth the surface of metal. For most projects using this tool you will want at least a 3mm ball. This tool may also be found at your local craft store for use with clay or nail art.

Hand Tools

Basic hand tools – Any quality is appropriate for my classes. These do not need to be high end or expense.

Round nose

 - Typically it is preferred that the round nose be a fine tip. Especially for classes with detailed wire work.


Chain/needle nose

 – Tapered jaws for general metal and wire work. Non-serrated are requested for all of my classes. Typically requested for classes to be used for opening and closing jump rings; in which case, 2 pairs are requested or a combination of chain nose and flat nose is suitable.


Flat nose

 – Similar to chain nose but the jaws are not tapered. Non-serrated are requested for all of my classes.
 

Helping Hand/Third Hand

Used to hold small parts in place while soldering. Instructor will provide to share for every class needed.

Needle File Set

Used for filing smaller pieces of metal and tight places. When required, either diamond coated or fine tooth is preferred. Some students may prefer to use smaller files as opposed to the student files for their projects.

Side Cutters

Also known as wire cutters or snippers. For many of my classes I prefer Ultra Flush side cutters because it eases the workload. Ultra flush is the most flush you can buy as opposed to just flush cutters. If you don't own a pair of Ultra Flush cutters, you may want to invest in a good pair either Lindstrom or Swanstrom. There is usually not a different in price between ultra and just flush cutters so why not just buy the best? The image shows just a side cutter (top) and ultra flush (bottom).

Soldering Kit

(Optional) 
Items in this Soldering Kit will be provided for use during the class. If you are interested in ordering a kit please click on the image. Kit includes: Butane torch, butane, 1 tube solder paste, fire tweezers, copper tweezers, Sparex, tripod with mesh, flux, soldering board. (Note: kit will be delivered at class. If you require the kit prior to class please contact us to make arrangements.