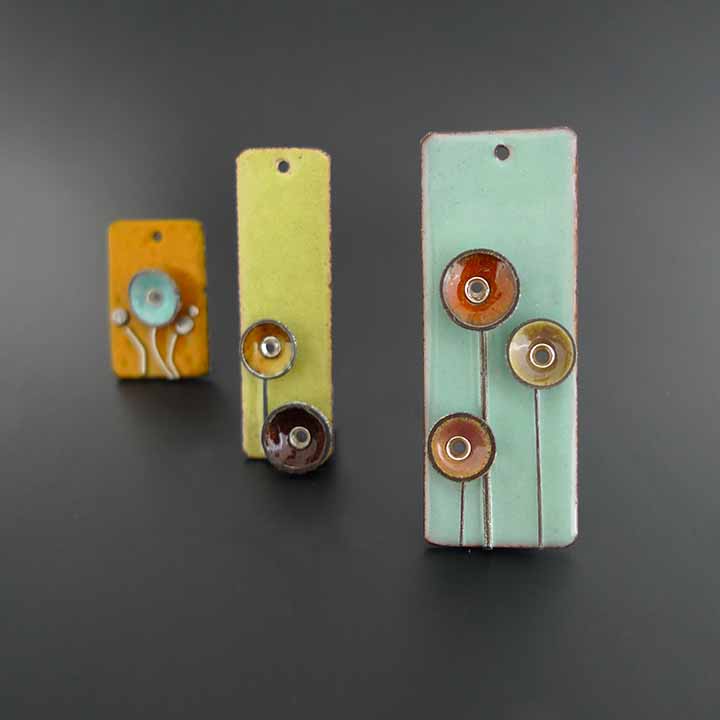 Riveting Enamels
Level

Beginner

Session

3 hours

Description

Learn enameling and cold connections in one class. You will learn to torch fire enamel on copper and use transparent enamels on silver to create true colors. After firing all the pieces, you will rivet them together. Students will finish at least one pendant.
Tools
Some tools will be provided by the instructor. Please refer to your registration.
Bench Block

Steel or Anodized aluminum - Used as a hammering surface for metal stamping or working with metal.

Bezel Shears

Used to cut metal sheet. There are many available on the market, any of which will work, however they should NOT be serrated. (Tin snips or airplane shears will also work, however, they may be large and cumbersome.) If the project has curves in the design and you own a pair, bring curved bezel shears. This is an optional item for most classes. Shears will be provided for use during classes.

Butane Torch

Great for small soldering projects, annealing and torch fired enameling. Instructor will provide torch and butane for every class needed. (1 for every 2 students for most classes other than basic soldering.)

Pistol style torches may be used interchangeably to the MaxFlame torches. Its larger head is great for heavy or larger projects.



Center punch

Used to create a dimple in metal to start a hole for drilling. Also used for riveting. Provided by instructor for all classes

Divider

Used to score metal to create lines for cutting. May also be used to aid in measuring for consistency. A compass will NOT work, I already tried.

Dust Mask

A MUST if you want to drill shells and pearls. However, this is optional for classes with fumes such as etching and patinating. Classes that have a lot of dust do not require a mask, but it up to you if are you sensitive. (ie enameling.) Dust masks may be purchased at any hardware store.

Enamel Kit

Items in this Enamel Kit including enamels will be provided for use during in person classes. Thus is considered optional. If you are interested in ordering a kit please click on the image. Enamel kit includes: trivet, sifter, Penny Brite, alundum stone, choice of one color kit, and Klyr Fire.



| | | |
| --- | --- | --- |
| Jewel Tones | Earth Tones | Cool Tones |
| | | |

Fire Tweezers

Used for handling hot metal. A must in soldering situations. Instructor will provide for every class needed.

Flex shaft

Rotary tool used for polishing, drilling, finishing, etc. Flex shafts are available for purchase new and gently used at the class. Pleased contact the instructor if are interested in purchasing one at the class as quantities are limited. 

Hand Tools

Basic hand tools – Any quality is appropriate for my classes. These do not need to be high end or expense.

Round nose

 - Typically it is preferred that the round nose be a fine tip. Especially for classes with detailed wire work.


Chain/needle nose

 – Tapered jaws for general metal and wire work. Non-serrated are requested for all of my classes. Typically requested for classes to be used for opening and closing jump rings; in which case, 2 pairs are requested or a combination of chain nose and flat nose is suitable.


Flat nose

 – Similar to chain nose but the jaws are not tapered. Non-serrated are requested for all of my classes.
 

Magazine Pages

Magazine pages of any kind – Take your pick. Or just grab one of the programs at the show.

Magnifier or Optivisor

– For almost all classes this is listed as an "As Needed" tool. If you have sight challenges it is recommended that you are properly prepared. For advance stone setting classes this is required! If you decide to use reading glasses consider better than 2.5x.




Metal Dap Set

Used to dap metal to create a cup shape. 3 sets will be provided during classes to share. If you are bringing a set, please check with the instructor for needed sizes. Usually an entire set is needed for a class, only parts. This will lessen the weight you need to carry.

Ott Light or Task Lamp

This is optional item that is listed for every class. It is up to you to determine whether or not you will need to have one depending on your vision.

#2 Paint Brush

Any small paint brush will work for these projects. A #2 brush was designated just to demonstrate that it needs to be small. Don't bring a house painting brush! Just saying. This brush does not need to be expensive, a cheap disposable one will work.


IF a #2 flat brush is designated, again just looking for a smaller sized brush.




Riveting Hammer

(aka Swiss Hammer) – Best hammer for riveting due to its small size. Instructor will provide for every class needed.

Metal Ruler

6" metal ruler is preferred unless otherwise noted. A larger one will also work, however, it may be a little cumbersome.

Side Cutters

Also known as wire cutters or snippers. For many of my classes I prefer Ultra Flush side cutters because it eases the workload. Ultra flush is the most flush you can buy as opposed to just flush cutters. If you don't own a pair of Ultra Flush cutters, you may want to invest in a good pair either Lindstrom or Swanstrom. There is usually not a different in price between ultra and just flush cutters so why not just buy the best? The image shows just a side cutter (top) and ultra flush (bottom).

Student Files

Standard size is 2/o. For filing metal. . Instructor will provide to share for every class needed.