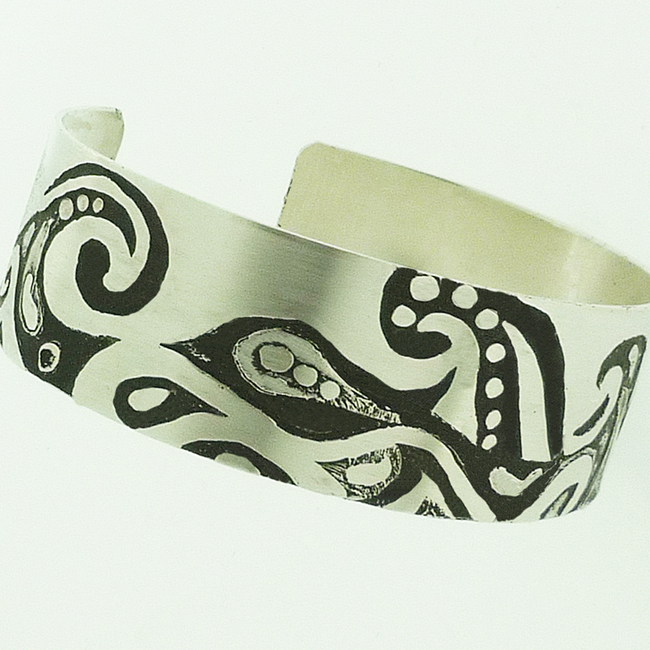 Positively Negative Etching
Level

Beginner

Session

3 hours

Description

Learn how to create your own etched designs in Sterling Silver. In this class, you will learn how to transfer your own designs to sterling silver and create a chemical etch.
Tools
Some tools will be provided by the instructor. Please refer to your registration.
Oval Bracelet Mandrel, Steel

For shaping and form metal into a bracelet shape. 2 will be provided to share for all classes. So if you have one, bring it.

Magnifier or Optivisor

– For almost all classes this is listed as an "As Needed" tool. If you have sight challenges it is recommended that you are properly prepared. For advance stone setting classes this is required! If you decide to use reading glasses consider better than 2.5x.




Nail Polish

 – A fresh bottle is preferred. Any color EXCEPT clear. If there is a fast drying option, this is also preferred.

Ott Light or Task Lamp

This is optional item that is listed for every class. It is up to you to determine whether or not you will need to have one depending on your vision.

#2 Paint Brush

Any small paint brush will work for these projects. A #2 brush was designated just to demonstrate that it needs to be small. Don't bring a house painting brush! Just saying. This brush does not need to be expensive, a cheap disposable one will work.


IF a #2 flat brush is designated, again just looking for a smaller sized brush.




Rawhide/Leather Mallet

Shape and flatten metal without marring it. #2 mallet is a standard size. Instructor will provide for every class needed. A yellow nylon mallet may be used in its place, however a rubber one may not.