Peru 2015


Day 1 – and away we go
It has been 2 years since my last trip out of the country, and for some odd reason, I am nervous. I find myself with a knot in my stomach, hmmm. I am quite unclear what it is. Am I worried about a new country, am I really prepared, did I pack the right equipment, the right shoes? Or is it because this is the first time I am taking this kind of trip? What about the altitude? What if I am the one who ends up on that horse? Oy. Onward.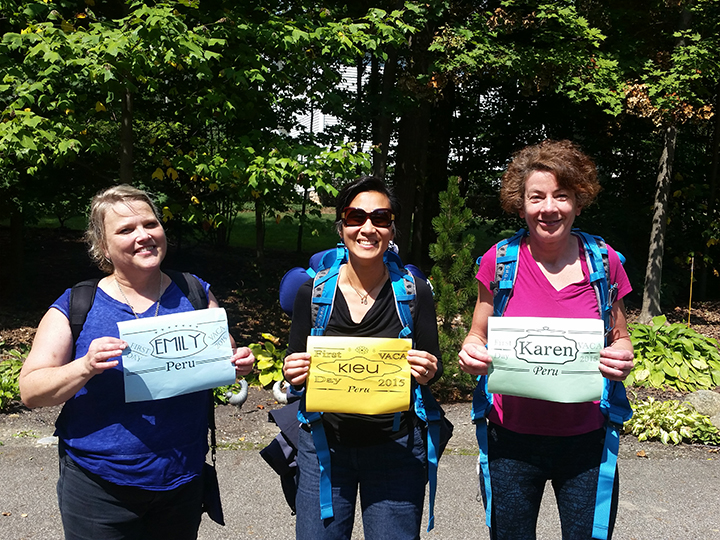 Happy to see that my travel companions played along with my little joke. :)


Day 2 –
| | |
| --- | --- |
| | First breakfast in Lima provided by the hotel. Well, that was interesting, you would have thought we were in China again. There were plenty of Asian food on the buffet (about half of it) and I suppose that would be appropriate because there were plenty of Asians in the restaurant, hmmm. So strange. I skipped it and opted for eggs to order and some toast. |
| | |
| --- | --- |
| | On the list for our short stint in lima, see downtown, royal palace, find a bead store and the catacombs…(hmmm, why don't I have any pictures of that? Because they did not allow us to take pictures. So imagine 20K skeletons.) Much of what we saw in Lima reminds me of Mexico, not surprising. |
Before heading off to the airport for the next leg of our trip, I was able to have our driver take us to his favorite restaurant. Oh, what a treat. I love going to restaurants frequented by taxi drivers, it always seems like they go to the best places. Today the specialty was ceviche de mar. Ok, lets admit it, I was really apprehensive about eating raw seafood in a foreign country, but it seems to be the national dish. And Guillermo told me that the specialties of the house were: 1. Ceviche and 2. Arroz con pata (rice and duck NOT chicken). After a moment of deliberation and reasoning in my head, I decided to go for it. Of course I enjoyed it, but the question was, would I come to regret it later….

It was the best ceviche of my life. At first real meal Karen learned a tortilla as we know it is not a tortilla in Peru….it's an omelet. She ordered a dried skate tortilla. I think she was expecting a fish taco. Welllll, not so much. She got an omelet of dried skate. (Not clear that even I would eat that.) All was made right with Pisco Sours. That's one way to kick off this adventure…onward to Cusco.
Day 3 – Cusco


Holy cow last night was fuuhhreezzing. The house is a 2 story condo where the heating unit was a small, portable propane thing that was on the first floor. The second floor had nothing but blankets. Argh. I could not get comfortable all night.

Waking up, the altitude has already hit me, the light headedness, the pressure in my sinuses and headache…The decision, to take the altitude sickness pills now or wait? Perhaps my body will catch up and I will acclimate. Should I give my body a chance to do it's job?…Lets see what my Facebook friends have to say….That lasted about a half hour before I decide to take the freaking pills.
No one seemed to be in a hurry for breakfast this morning as we casually headed out to find coffee and sustenance. We found Starbucks, wooohoo. On the walk into town it is becomes clear to me that Cusco a tourist town. Finding local eats will be a challenge.
So where do I go to find food? The local markets. Mercado Central de San Pedro would be first on my list. There we found where the locals go shopping along with a few tourist offerings sprinkled in (because obviously they knew better). The smells the colors, the offerings, hmmm, looks like every other market I have been to in other parts of the world, but with a Peruvian flare. This being my first visit to South America, I am realizing that is really is no different from Asia. It is just a different ethnicity. Sort of cool.
| | |
| --- | --- |
| Nothing like basket of warm rolls at the convenience store next to the rental. | Plenty of tourist goods, |
| | |
| Lots of locals means, it has to be good. | Noodles for breakfast. No matter where I go, this is the ultimate comfort food. This was an amazingly fresh bowl of soup. I am pretty sure it was only $1USD. |
| Best seat in the house. | |
| | |
| --- | --- |
| Went to the trekking tour office for our mandatory orientation meeting. There we met our fellow trekkers and our fearless leaders. Our counterparts seemed like nice people ready to have fun and meet the challenge. The guide, not so much. I was completely unimpressed. But perhaps it will be better on the trail. | |
| | |
| --- | --- |
| | |
| Cusco at night | Oddities |
| | |
| Random door decoration. | Hmmmm, Out? |
The ChocoMuseo would provide our fun for the day. There we took a chocolate making class and learned all about the cacao bean and its process from farm to table. It was a great opportunity to learn about something at its origin. By the end we all had a bunch of chocolate to take home with us.
Pisco Sours would end our early night as we prepared for our big adventure.
I guess there was going to be a concert.
Day 4 – Salkantay Trek – 1
Pick up at 6'ish from our condo, this was not to be as easy as it sounds. The roads were too narrow for the bus make up. So we had to walk to the bus with our tote and equipment, luckily they sent people to help us carry the bags, phew!

On the bus we met Tom (29 years old from San Francisco). This would be his first adventure of this kind. He had a nice demeanor about him and seemed very happy to be there. Next would be John and his kids Lauren (26 years old) and Remi (22 years old) from London. Lauren was immediately a ray of sunshine. She introduced herself to everyone and went directly to the back of the bus, where the bad kids sit. ;)

Then came Neil and Katie (dating couple of 8 years from Liverpool). As soon as Neil got into the van he said "funny, and we thought we would be first." Yeah, so much for me trying to figure out the timing of the pick-up at the orientation.
Chris (from Australia, can't remember which city) would be last. He really was out of the way and the only one who was staying at a hostel. He was the iconic hostel type toting a small guitar and what seemed to be his entire life in a heavy canvas backpack. He was on holiday in South America for THREE months.


(Karen is already passed out. teehee)
Our second stop, on the 4 hour bus ride to the trailhead, would be at a little town where we were told we could use the toilet and were "invited" to half a piece of bread and coca tea. (The "invitation" came with a price.)

This stop would also yield the first incident of the trek, and yes, I would bear the burden of that. On the short walk up the road to the facilities, I stepped into a drainage grate. Where I stepped was exactly enough separation between the grates for my foot to go through (no other area on this grate was bigger) and my leg went all the way down to the point where my crotch actually hit the grate. Oy. Once again, we are in a foreign country and Karen had to witness this. It happened so fast, I am not even sure who all pulled me out of the hole. (I knew that was going to bruise in more than a few places.)

I was lucky that this fall only resulted in some bruising, this could have been the beginning and the end of my trek. I was most impressed by the concerns that was expressed by Neil and Tom. Both of whom individually pulled me aside to asked me how I was. Wow, I didn't even know these people yet and they were so genuine. It was not until here that the group would officially come together and formerly meet one another. I get a feeling this is going to be a good group of people.
We arrived at our first site where we would have a beautifully cooked meal of trout and rice (started carb loading in anticipation) for lunch. After lunch we were given the option to take a side excursion to see a lagoon (1.5hour hike) or just go directly to our first campsite. Well duhh, of course I am going to take the lagoon. Any opportunity to see more, right? We are in Peru, we are in the Andes, I have to see everything I could possibly see.

So the group split up. Maruja (the second guide) would lead the slow group (Emily, John and Katie) directly to the campsite, while Fabian would lead the fast group to the extra hike. I assessed the hike by site and decided that it would not be problem and was not different from any other hike I had done in the recent past. ¾ from the top I quit. I had had enough. I couldn't breathe, my muscles were tired and I just couldn't go on. And there was still another 3 hours to go to get to the campsite. But noooooo, my fellow trekkers were not going to let me quit. So I pushed on and made it. On the way back down I asked Karen if she thought it was worth it, I didn't get an answer.
| | |
| --- | --- |
| | The fun was just beginning. We were to hike 5km uphill to our destination. I did the math and decided that it should be a piece of cake. I had recently hike 7.5km uphill in Alaska without a problem. This would prove to be a very different kind of hike. Altitude was now the game changer. Something that I did not anticipate at all. At first it was about every 20 steps that I would have to stop to catch my breath, then little by little it would become, every 10, then every 3. I had become so fatigued that I started questioning my body. Would my legs support my body weight enough to keep me from falling backwards on a rock climb? |
No longer able to calculate the distance I had left to our final destination, it became a mental game of just putting one foot in front of another. Karen and I were at the back of the group during the first half, but I was slowly falling behind her. At some point Chris stayed with me, but I could tell he was stronger so I told him that I really needed to just work at my own pace, hoping that this would let him off the hook. (I am glad that he moved on without me.)
This trek became the toughest mental and physical challenge of my life. I stopped taking pictures to focus on my breathing and steps. My vision became impaired as the boulders I was seeing started moving, not like I was hallucinating, but they started looking wavy, obscured. Sort of like what happens right before you pass out. By then I lost sight of my fellow trekkers. The colored dots that were their backpacks had long disappeared and could no longer use them to keep track of the trail. I had to find confidence in my own skills to find the right trail.
This trek would be more than an exercise, it was a metaphor for my life. When I started getting overly confident with myself, my skills, my life, God would remind me that maybe I shouldn't be. That every step of the way should be deliberate and calculated. I should reflect on the step behind me, assess the step in front and based on the information make a decision that is right.
As the sun went down beyond the mountains, the temperature drops into the 30's. I was without proper clothing. I did not anticipate being out in the elements as long as I was, my hands were numb because I only had fingerless gloves and was now starting to shiver. My head was in a fog from the altitude and it was by shear will that was to keep me going. My only thoughts now turned to, how will I break the news to Karen that I can't do this.
The doubts started swimming in my head. I know that I am being challenged spiritually, am I up to this challenge? Is it really a spiritual challenge or was it really a physical one. Can I do this vs. do I want to do this? For what felt like hours upon hours I deliberated these question in between the steps, the breathing, the cold. As if that was not enough, I started dry heaving. I think this is where I knew that it was no longer spiritual but physical. My body had had enough, it just wanted to lay down. No amount of reasoning could make this better.
The sun had gone down and it was getting dark. At some point Fabian was waiting for me, he informed me that they had sent for a horseman and a horse. He told me that the horseman would meet me, take my pack and take me on another 10 minutes where there would be a horse for me. Thank gahhhhd. The horse was a most welcome site.
I was the last to arrive at camp, where they had hot tea waiting for me. I was so cold my teeth were chattering and my hands were shaking. All I wanted to do was lay down, but they insisted that I took some hot tea. In the commissary tent I was met by my fellow trekkers who all seemed equally cold. Katie very quickly saw the sickness in my eyes and asked the guides to provide oxygen. I am again grateful to have people around me who were so caring.
So weak and nauseous I could only muster down a cup of tea before asking to lay down. Karen followed behind me to our tent. Her sleeping bag had yet to be delivered so I insisted that she jumped into my sleeping bag, but lets me honest, I was so cold I needed the extra body warmth.
They delivered the oxygen tank, but it didn't work. I was so tired at this point I almost didn't care.
Day 5 – Trek 2, the longest trekking day
After a very cold, restless night of sleep, riddled with the sounds of animals and an avalanche, we were awaken by a cup of coca tea at 6am, frost on our tents and "personal" wash bin. All of which I could give a shit. All I knew was that I am freezing my ass off, my head hurts and I am still in the same clothes as yesterday. I guess I was so exhausted and cold it never occurred to me to change. (So much for the pj's I packed.) But I was in good company, Karen was in the same state of freezing.

At breakfast I discovered that we were all in the same boat. No one slept well, no one was warm and half of the people skipped dinner as Karen and I had. And though I felt better, I was still in no mood to eat. Eating was now a chore. Knowing what we had ahead, I forced down what food/fuel I could muster.

After yesterday, I would have to change my plan of attack. This would be a mental game and I would have to move forward at a pace that my body could handle. All I had to do was make it through the first part of the trek, an uphill hike for 2 hours. Then the rest of the hike would be easy, a downhill hike to lunch.
Don't let the smiles fool you, they were faking it!
There was no problem at all…until there was problem. Having a good ole time, until we were in sight of the camp. Step by step it suddenly got harder and harder, the final 100meters felt impossible. I decide to take my time because we were at the middle of the pack and I would not be holding anyone up. Upon arrival Karen found herself a hill to pass out on. I followed suit on another hill. Again, I was ready to call it quits.
I guess I had hit my wall.

I was woken for lunch. OMG, is that fried food they are serving?…baarf. My mind told me I had to eat. I took one bite and that was over. I took myself outside as far as I could away from the tent to start dry heaving again. I returned to force down some soup but that would be my limit. Again I excused myself from the table to collapse on a pad of dirt outside the tent until I was woken after lunch And the siesta that was given. (Oh dear gaaahhhd, I just want to sleep for a year!)
Not sure what happened, but perhaps the nap did me good and I found my second wind. We were now heading into lower altitudes and into the jungle. Hmmmm, lower altitude = no more altitude sickness; jungle = bugs…the good and the bad.

Dinner tonight meant an opportunity to for re-fuel after almost 24 hours of little to none. We were greeted by 2 platters of glorious popcorn! It is the creature comforts that make hard trips easier. Tom, "I think I am going to finish this platter before everyone gets here." Me, "I don't think I care." Shovel in more popcorn. Upon Lauren's arrival to the table, "Popcorn!!!!"
Day 6 – Trek 3 – Hot Springs
This morning we were given the option to take the bus to the next campsite or to trek rolling hills to see coffee plantations, villages and farms. I am feeling a lot better, I opt for the trek. If I am going to do this, I am going to do this. Emily and John elect to take the bus.
| | |
| --- | --- |
| | |
| When we arrive at camp it is ready to receive us. | By the time we are ready to leave, camp is almost packed up. |
We arrived at our first stopping point where there is a small village for trekkers and we were attacked by biting flies. Looks like the organic bug repellent isn't working. I am ready for the real stuff. The flies that are biting are leaving a blood blister at EVERY bite site. OMG. I am starting to freak out.
At lunch the bugs start attacking and I decide to deploy the mosquito net. I brought one, I am going to use it. I don't care how asinine it looks, I put it on. Wow I never thought that mosquito net would reduce so much stress! I was so much more comfortable not fighting off bugs from my neck and face. Now for the real bug repellent, organic stuff out the door!
During our lunch I discovered that the repellent I had was crap compared to my British counterparts. Huh, in the US the percentage of deet is about 35% in the UK, you can get 95%!!! I offered to buy Neil and Katie's left overs at the end of the trek. But true to form, Neil gave me his bottle right then stating that they had a second bottle. Woohooo.
After lunch we were given much relief with a bus ride to the next campsite where we had the option to go to the hot springs or hang camp…We ALL opt for the hot springs.
| | |
| --- | --- |
| | |
| I think I can get onnnne more on there. Holy shit. | While we are at it, lets pack the hikers inside! (kepts my mosquito net on because it just m ake me feel that much more relaxed. |
| | |
| --- | --- |
| Oh the glorious hot springs. What a welcome relief. This would be the first time in 3 days that we would wash ourselves. I am grateful that our group, unbathed were not a stinky bunch. Having passed many other trekking groups it became apparent that I had not smelled anyone in our group like I was smelling the other groups. Again, thank gahhhhd. | |
Even though the hot springs were (in the words of Emily) "heaven". Some of us would pay for it. As Katie and Emily came out of the pools they were swarmed by biting flies. Let me say that again, biting flies. My skin is crawling just writing about this. The end result was Katie with over 60 bites and Emily with more than 300 bites on both arms and legs. (I don't think I will ever complain again about my bites.) ahhhhhhhh
Day 7 – Trek 4 – Ziplining
| | |
| --- | --- |
| After such a hard 3 days of hard trekking, the majority of the group was done. Any option other than trekking seemed to be a good option. They decide to go zip-lining. Though Chris and I want to trek to see ruins, it was no longer an option. | |
| | |
| --- | --- |
| | |
The rest of day was spent at Hydroelectric (the train station) for 4 hours! Oh, yeah, there are things you are can do there. You can go the restaurant and shop around. Let me just say their idea of shopping around and mine are quite different. This is was tiny strip of shacks all offering the same thing, water, soda and snack items. Wow the shopping was great. *snark*

Instead I found my way to the river nearby. All I wanted to do was soak my feet in cool running water. And there it was, ahhhhhh. My turn to find nirvana in a river. Unfortunately the river was a little stinky and Chris felt it wasn't really safe to go swimming, but putting our feet in would be ok. And let me just say it was one of the best feelings I can remember having. Even better than the hot springs.
| | |
| --- | --- |
| Despite the fact that our legs were in the water, the bugs were still attacking. I was constantly swiping black biting bugs off my legs Under water! Holy cow the bugs in this country are vicious. It was so disgusting. Needless to say, this is what made our time there short. I wanted to so badly to sit there longer. | |
Tonight we arrived at Agua Calientes, a small tourist town where most people stop on their way to Machu Piccu. Here is where we will finally get a real shower and a meal in a real restaurant. On the menu "loma" or otherwise known as alpaca. For all intents and purposes, it was red meat a lot like filet mignon but with a gamey flare. Like all other meals in Peru it was accompanied by French fries. For me it was a bit uninteresting. Tom benefited from my left overs.

J
Day 8 – Trek 5 - Machu Piccu
4:45 am, in the bus line and ready to go see sunrise. 200 people in front of us thinking the same thing. 5:30am, the buses start filling up and in orderly fashion it all begins. One after another the buses fill with both locals and tourists making their way to the promise land.
Arriving at the gate to MP was a bit surreal. I felt like I was in a mob of people, clutching their E-tickets at Disneyland, clamoring to get on this cool ride. Ascending a flight of stairs, where at the top they would check our tickets against our passports and allow us passage to the sacred land.
After winding our way up along switch backs like ants in an ant farm we arrived as a group to a terrace that would be our viewing platform. Fogged in. sigh. You could hardly see the ruins.
From here we waited patiently for the rise of the sun to hopefully burn off the clouds and reveal the splendor of MP. The mountains around us were majestic. So high and so solemn as they stood still for our viewing. As if just waiting for their picture to be taken. The sun took its time to rise. And there it arrived, slowly peaking its way over the mountain and slowly, methodically burned off the fog to reveal the splendor of MP.
If I am to be truly honest, for me, the moment was lost on me. Too many people, too much buzzing around me. My head was swimming in frustration events of the morning. I found myself withdrawing and searching for why I was there in the first place. After 2 years of talking about it, and months of planning I wanted my wow moment and it had passed me up. Of course at the time I agreed and nodded with the excitement of everyone, but I was just not there. I can intellectually write about it now and reflect on my memories of the vision I beheld, but I just couldn't grasp the moment while I was there. I began to question my experiences as a whole.
For the next few hours, our guides walked us through the ruins and shared stories and the history that was MP. With a hug and tip we bid our guides farewell on the grounds of MP.
My head was swimming with conflict, I had been waiting and planning for this moment for 2 years! And suddenly it was over. And I wasn't coming back. I need redemption, I want redemption. I want "the spiritual" journey that so many before me had reported. I wanted my due. I wanted a do over. How am I going to get a do over??? In my head I scrambled to work through my problems.
It seemed as if everyone was done and we were now heading out of MP. But somehow, we agree to just go outside to get a bite to eat and use the WC. Phew, I had a moment to think about my next move.

John was happy for a beer and dog.
By the end of lunch 7 people decide to go back to town, they were done and got what they came for. Tom, Lauren and I decided to go back for a little more exploring. But it was clear, I would be the only one to use their ticket to Huayna Piccu. Only 400 people per day are allowed entry into Huayna Piccu and we were one of the lucky few. I just could not allow it to go to waste and perhaps this would be my redemption.
| | |
| --- | --- |
| | Arriving at the gates (11:10am) I was denied entry. The attendant told me I was too late and that the cut off was 11am. (I had no idea there was a cut off.) She was clearly conflicted about her decision as she had closed out the sign-in sheet. Luckily she took pity upon me and allowed entry. With a stink eye, she told me I had to leave by 2pm. I was literally the last person allowed on the trail. |
From the beginning of this hike, I considered every step, after all, this was redemption. I knew that I was on my own journey and it was up to me create an experience I could treasure.
The hike up was quite nice as I was greeted by people on their way down, all of whom were so encouraging and telling me that I was so close and that it was so worth it and to keep going. (It felt like they were all placed there just for my journey, because I needed them.) In return, I had the opportunity to help another hiker who had misjudged his own abilities.
3 minutes shy of the top I was turned around. The ranger was done for the day and closing up shop. Again a lot of creative begging gave access to the top, and as return for the favor of helping his friend, a Spanish speaking hiker gained me access for a little longer.
I had my space and my own time at Huayna Piccu and in that space I remembered how to be with myself.
| | | |
| --- | --- | --- |
| | | |
| The top | | Looking back at Machu Piccu |
Day 9 – Back in Cusco
Last night was a rush of good byes. No one anticipated such an abrupt end to our adventures. It was quite sad, not being able to say proper goodbyes to our new friends. The buses that came to get us separated us into 3 groups to take us back into town. Sigh.
After such a long and hard 5 days we all agreed to a slow quiet day of getting coffee and hanging out in Cusco. We found a creperie for breakfast (it sort of sucked), so we headed for Starbucks. It is almost shameful how much Sbux we had consumed on this trip, but for me it was the creature comfort I did not expect that I would need.
We took in free walking tour to learn about Cusco. Which was is always sort of interesting when you are accompanied by a scientist who can disprove all the science theories being thrown into the crowd. Hmmm. Emily was not very pleased by the hokus pokus science. I think she was quite relieved when we encountered John and family in the square, thus promptly ending our tour.
How nice to be able to have a proper good bye.
After a late lunch we would return to the house to send Karen on her way home.
| | |
| --- | --- |
| i | |
| I think this almost killed Emily. | I couldn't leave Peru without trying the national dish. |
Day 10 – Pisac
Lauren, one of our trekking friends, joined us to Pisac today.
In Pisac I found the moment that would make my trip. The weather was beautiful and there was just enough silence. Then there it was, the moment that brings everything to life. In the middle of the market, with a breeze on my face and the sound of church bells ringing so clearly; it was glorious. I could see the mountains in the distance and feel the energy of the people. In that moment I realized, nowhere else in the world would I have this experience; it was then that I felt it, "I am in Peru".
I have always talked about the journey vs. the destination; the people you meet, embracing the culture, the riches of the surroundings. And throughout my travels there have always been "moments". However, it was on this trip and on this day that I have the realization that this is why I travel. To truly be present. I felt as if I was being embraced. This will change my life.
Day 11 – Salineras and Moray
I negotiated a driver today to take us to the salt mines. I had seen pictures and though I had read that it was quite touristy, I still felt like it would be a miss. I am glad Emily agreed to go.
First stop was Moray, an

archaeological site. Now that we were back in high altitude the thought of walking up was just a challenge. I am unclear whether or not there were words between Emily and I when we arrived at Moray, but one this was clear, neither one of us were going to walk down to the bottom. A view from the top and few snaps of the camera we were done. I believe the exact description was that we pulled a "Chevy Chase's Vacation"…"ok, lets go." Lol. How nice to be traveling in agreement.
Arriving at Salineras was bit different. There didn't seem to be a choice, we could not in our right minds pass this up. So with a deep breath we walked down. We took our time to soak it all in despite all of the tourists and the trappings thereof. I don't know how long we stood there just in awe of the site before us, but it was quite wonderful. Wow. The site of it all was amazing; unlike anything I had ever seen before.

Hard to believe that it is has been thriving since the Incans and still providing for people today. All from one spring.
We took our time back up the hill. Conquering one tier at a time. We both agreed that it was well worth the pain of it all.

| | |
| --- | --- |
| A very low key dinner. I don't think Emily could have handled another "national" dish. | |
Day 12 – Back to Lima
Again in agreement this morning, we would take our time to the airport with a pit stop at Starbucks. Ahhhh. How nice. Starbucks…..
At the airport I was reminded of how easy travel is in a foreign country. They let me walk through security with my coffee cup in hand! And when I set off the metal detector, the security guard smiled at me and pointed to the cell phone I had forgotten in my pocket. Without grudge, but with a smile she had me step back and place my phone on the conveyor belt. Wow. Why can't our TSA be this nice? I was not treated like hoodlum or terrorist, but simply someone who had an oversight. Novel.
What a relief it was to be sea level once again. Relief from altitude sickness was almost immediate. Emily was suddenly giddy and talkative. Amazing what happens when you are no longer pre-occupied with pain. She told me that she felt as if her mind was not longer foggy.
Tonight we went to a food festival, The Mistura 2015,

La feria gastronómica del Perú

. We thought it was a great opportunity to have a cultural experience in Peru. Festivals are great places to be with people in their native settings and it being a food festival? Bonusssss. There were so many offerings it made our head spin. From chocolate to ceviche, it was hard to choose what to eat.

I was most impressed with how clean the grounds were. I have never been to a festival that was so clean. There was not one over flowing trash can. There were recycling trash cans all over and people were actually segregating their trash. There no drunken and disorderly people. Smokers were few and far between (mostly kept to the drinking areas). Where there was a concert people were not pushy at all. What more can you ask? It was the most idealistic festival experience I had ever been to.

| | |
| --- | --- |
| As if that was not enough for one night, we moved on to the Magic Fountains in downtown Lima. (More proof that altitude was not affecting us.) There we were greeted by water fountains choreographed to music. I know this is about as tacky sounding as it gets, but to my surprise it was a wonderful display. There is a good reason why it is on the top 10 things to do in Lima. Just fun to walk around all of the water exhibits and to watch other people interacting with it. (Yes, they made interactive water fountains.) What a great way to spend an evening with your family. Emily and I enjoyed watching the water as much as we enjoyed watching the people having fun with it. How refreshing. | |
Day 13, last day in Peru
I was awaken this morning to stomach trouble. I thought I could ignore it until I was truly ready to get up but, noooooo. That was not to be. Holy crap (and I mean that literally) I did not make it to the bathroom. WTF??? I guess I should feel lucky that it did not happen on the trek or when Emily was awake, right? My stomach has not been right since Day 2 of arriving in Peru.

I had not eaten a proper meal in almost 2 weeks, nothing has been 'deposited' in a manner in which I am used to, and my stomach feels like there is void in it. Oy.

Set with a plan, Emily and I set out to see what could of Lima. First on the list, exchange dollars. But not at the bank but on the street in front of the bank with 2 ladies carrying pockets full of money. Really? Really, this is how it is done and it's legit. Really. Totally weird and crazy, but totally more legit than it was in China.

Now able to breathe again, we set out to enjoy as much of Lima as we could. Shopping in Miraflores, a walk to the cliffs that overlooked the ocean (it was overcast), and some paragliding. Why not right? Lets go out with a bang. Unfortunately, it was not to be. The winds would never pick up enough to take us out, but then, I had decided that I would not partake in fear of motion sickness. Still sad that Emily could not get it done.
Onward to Chinatown, a place where we were hard pressed to find Asians, let alone Chinese people. I thought it would be an interesting excursion, perhaps not so much.
With our remaining Soles, we decided that we should have a really nice dinner to hold us over for the long flight home. A place that we could sit for a quiet meal to reflect on our adventure. And we did we decide on? Italian. Yup, Bodega La Trattoria, that was the place. But oh, what a good dinner it was. And a perfect ending to our trip.