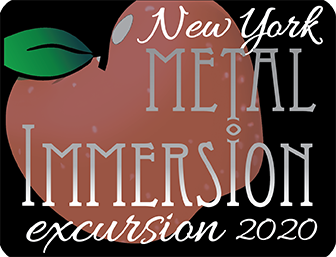 Metal Immersion New York
(Excursion)
Location

Syracuse, NY

Date

May 4 - 6, 2020

Registration is currently on-going.
Join me a for another Rockin' Chicks excursion in Syracuse, NY. Upstate New York is a goldmine of rock treasure from Herkimer Diamonds to fossils. We will do some digging, drinking and laughing. 

If you are local to Syracuse and want to join us for our day excursion. Reach out to me!
Agenda
Day 1 
* We will meet and depart from Syracuse, NY. (exact location tbd.) 
*We will pack our lunch and head to a fossil dig. Why? Because we can and we are geek. What will we do with our finds? Make them into jewelry! Duh.
*When we have had enough, we will a pit stop at a local NY winery on our way back to the AirBnB.
*The rest of the first day will be spent working on UFO's, sharing laughs, a home cooked meal and perhaps some more drinks to top it off.

Day 2
*We will have breakfast at our rental then pack lunch and go digging for Herkimer Diamonds!
*We will find something to do on our way back, maybe a little antiquing or visit a local museum. If we have not gotten enough wine, I am sure there is another winery we visit.
*We will have an early dinner at the iconic Dinosaur BBQ restaurant. Before heading back to the rental to do some more hanging out.

Day 3

*For the early risers we could take a sunrise hike, for the everyone else we will be back in time for a late breakfast before departing home. 


Price includes:
Accommodations
Two nights. We are renting a 2 story house that is fully furnished and the kitchen if fully equipped. There are enough beds for each person, with one sofa bed; beds will be assigned by lottery when we arrive. There will be some room sharing. There are 2 bathrooms. We are maxing out at 7 people.
Meals
Breakfast - Tuesday and Wednesday
Lunch – Monday and Tuesday
Dinner - Monday
Above listed meals are included and will be cooked at the house (menu will be posted in May). Please let me know if you have dietary needs! I am planning on having gluten free and vegetarian options.
Price does NOT include:
Dinner - Tuesday
Alcohol
Purchases of stone
Entry to mine and museums
How to pack:
In addition to your personal belongings which should be limited to a carry-on bag, bring
Tools and projects to work on at night

A bottle if you would like, soft drinks and coffee will be provided.

 

A bucket for collecting rocks.

Hammers, chisels and picks for excavating rock.

Hiking shoes if you want to go hiking.

Re-usable water bottle 22oz or larger.
·        I am asking that you condense your packing because we need to have room for Your tool bag too. Luggage will be limited to one carry on, one personal bag, one tool bag and one bucket.