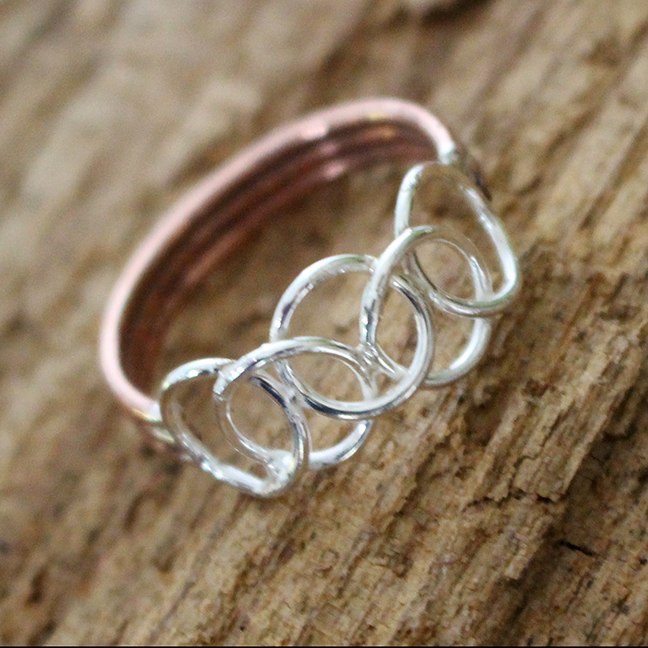 Some Ring - Intro to Basic Soldering
Level

Beginner

Session

1 hours, on-line

Description

Learn the basic concepts of soldering while creating a ring of mixed metals. Classses are conducted on my Q Talk Facebook page. Written instructions and materials list are available at The Urban Beader.


Tools
Tools required to complete project.
Bench Block

Steel or Anodized aluminum - Used as a hammering surface for metal stamping or working with metal.

Bench Pin

There are a variety of bench pins available on the market, any will do. However, you will need to bring a 4" or larger C-clamp. As the C-clamp provided with a bench pin does not fit most tables at the shows. 

Flex shaft

Rotary tool used for polishing, drilling, finishing, etc. Flex shafts are available for purchase new and gently used at the class. Pleased contact the instructor if are interested in purchasing one at the class as quantities are limited. 

Hand Tools

Basic hand tools – Any quality is appropriate for my classes. These do not need to be high end or expense.

Round nose

 - Typically it is preferred that the round nose be a fine tip. Especially for classes with detailed wire work.


Chain/needle nose

 – Tapered jaws for general metal and wire work. Non-serrated are requested for all of my classes. Typically requested for classes to be used for opening and closing jump rings; in which case, 2 pairs are requested or a combination of chain nose and flat nose is suitable.


Flat nose

 – Similar to chain nose but the jaws are not tapered. Non-serrated are requested for all of my classes.
 

Jeweler's Saw

Used for cutting sheet metal and metal tubes. Instructor will provide for every class needed.

Magnifier or Optivisor

– For almost all classes this is listed as an "As Needed" tool. If you have sight challenges it is recommended that you are properly prepared. For advance stone setting classes this is required! If you decide to use reading glasses consider better than 2.5x.




Ott Light or Task Lamp

This is optional item that is listed for every class. It is up to you to determine whether or not you will need to have one depending on your vision.

Rawhide/Leather Mallet

Shape and flatten metal without marring it. #2 mallet is a standard size. Instructor will provide for every class needed. A yellow nylon mallet may be used in its place, however a rubber one may not.

Ring Mandrel, Steel

Used for shaping and forming metal into rings. A plastic one will not work in its place. Instructor will provide to share (1 for every 2 people) for every class needed.

Ring Sizer

Optional, used to measure your ring size. Several sets will be provided to share in class.

Soldering Kit

(Optional) 
Items in this Soldering Kit will be provided for use during the class. If you are interested in ordering a kit please click on the image. Kit includes: Butane torch, butane, 1 tube solder paste, fire tweezers, copper tweezers, Sparex, tripod with mesh, flux, soldering board. (Note: kit will be delivered at class. If you require the kit prior to class please contact us to make arrangements.

Student Files

Standard size is 2/o. For filing metal. . Instructor will provide to share for every class needed.