Details
Level: Beginner/All levels       Sessions: 1        Hours: 3 hours
Project Overview
Why recycle when you can upcycle! In this class we turn recycled bottles into glass ballpins. You will learn how to make these great gems on copper wire using a butane and/or propane torch. Students may choose to put their ballpins to use in a piece of jewelry to wear or they may choose to utilize class time to stock up and make as many ballpins as they can.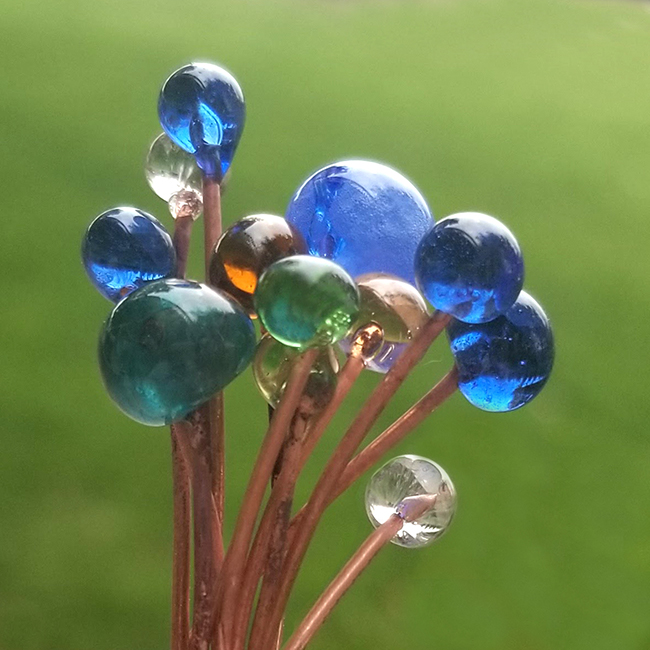 Tools
Didymium Glasses – Blocks UV and sodium flare and is used with torch work for bead making and silver soldering.

Basic hand tools – Any quality is appropriate for my classes. These do not need to be high end or expense.

Round nose - Typically it is preferred that the round nose be a fine tip. Especially for classes with detailed wire work.
Chain/needle nose – Tapered jaws for general metal and wire work. Non-serrated are requested for all of my classes. Typically requested for classes to be used for opening and closing jump rings; in which case, 2 pairs are requested or a combination of chain nose and flat nose is suitable.
Flat nose – Similar to chain nose but the jaws are not tapered. Non-serrated are requested for all of my classes. 

Heavy Duty Cutters – Although any heavy duty cutter will work, if they are flush, they will make your work a lot easier. Cutter should be able to cut through 10g wire. (Many cutters imprint their cutting capacity on the inside of the handle.) Keiba and Xuron are recommended.

 

Hemostat Forceps – Stainless steel, with teeth.